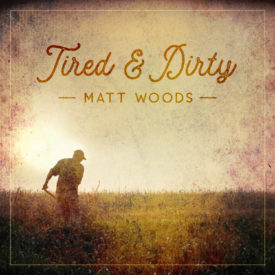 Matt Woods is from and lives in "Hawkeye State" Iowa. Woods has been blues guitarist / singer-songwriter since 2002 and has released five studio albums: 2 with his band The Thunderbolts and 3 solo (of which the first with the help of bassist Scott Cochran & drummer Michael Swanger.) Woods won the Iowa Blues Challenge three times and represented the state at the IBC in Memphis, TN.
Two of Woods' solo releases ('If I Was a Fish' [2006] & 'Sawdust and Gasoline' [2015]) and the two albums with his band, Matt Woods and The Thunderbolts, ('Be My Friend' [2007] & 'Matt Woods and The Thunderbolts' [2010]) received excellent reviews in "Blues Revue" and "Dirty Linen". 'If I Was a Fish' and 'Sawdust and Gasoline' ended in the top five of the Blues Foundation's "IBC Best Self-Produced Album" category. 'Sawdust and Gasoline' was also nominated in 2016 as Blues Blast Music Award in the category "Best Acoustic Blues Album" in 2016.
Matt was already on the podium with Hubert Sumlin, James Cotton, Pinetop Perkins, Louisiana Red, Eddy "The Chief" Clearwater, Willie "Big Eyes" Smith, John Primer, Delbert McClinton, The Arc Angels, Dr. John, Kelly Hunt, Joe Price, Pat Benetar en REO Speedwagon.
Recently Matt Woods released his second solo album 'Tired & Dirty' [2018] (the successor of 'Sawdust And Gasoline' [2015]). It is an album with ten original tracks. Woods does it solo, left-handed, sometimes sliding or finger-picking on one of his guitars and with his voice. The album was recorded live at The Spacement studio in Ames, IA.
Matt Woods starts 'Tired & Dirty' with the boogie-like "I'm a Bloodhound". Woods sings with authority and grit and informs his wife that if she breaks with him, he will "trace her like a bloodhound". "Train Goes By" is an up-tempo and cheerful instrumental track, in which Woods demonstrates his slide qualities. After the clever and introspective intro, it is mainly Wood's wry vocals that stand out in "Always Tired". He complains about life here, about how he tries to make money to support his wife and that it hurts when it does not work. In "V8 Ford" Woods sings about driving in his old V8 Ford while on his way to his wife's house. The song sounds nice old-fashioned, with Woods relaxing the strings relaxed. "Bootleg Me Mama" is a raw, somewhat dirty old blues with a repetitive deep guitar riff, to explain things. Woods asks his mom to take him anywhere, even in the trunk of her car, as long as he knows she is with him. For "Now I'm Busted" the pace goes up. In this fast slide guitar song, Woods tells us about how he was arrested and expresses his regret. "I Is not Leaving This Town" sounds cheerful and very folky afterwards. "Spacement Serenade" is an instrumental serenade on acoustic guitar and a beautiful, airy composition. "You Need Me" is a swinging slide song with Woods' vocals, which makes the song sound "old". His guitar pick shows that Woods feels completely in his element here. To conclude, there is "Changing My Mind About You". In this country-like song, Woods cries his guitar and sings a duet at a deliberately slow pace.
'Tired & Dirty' is the successful second solo release of Matt Woods. His texts are very creative and stories are interesting. 'Tired & Dirty' is a beautiful album with good roots music and with Woods, clearly in his element. Fans of acoustic music will certainly appreciate this. Strongly recommended!
Eric Schuurmans
www.rootstime.be