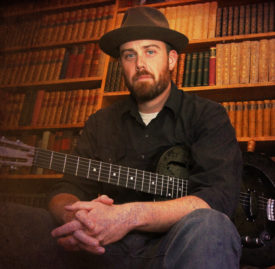 Woods and his steel guitar take stage at DG's on Friday
Blues and American roots musician, Matt Woods, knows first hand what it's like to live a rural Iowa life. Sometimes it's a lifestyle that leaves you tired and dirty. The Ames musician recently released an album with just that title, and will be performing some of his original songs on Friday, Jan. 25, at DG's Tap House.
Released in December, "Tired and Dirty" is the fifth studio album for the native Iowan, who lives west of Ames with his wife and five-year-old son.
The songs on "Tired and Dirty" are completely original material, written and performed in an age-old tradition, featuring "slashing slide guitar work, shake-it-don't-break-it rhythms and powerful vocals."
To capture the impulsive style of Woods' solo performances, the album was recorded live, in studio, in Ames. In Woods' own words, "This isn't my first rodeo, but it is a rodeo."
"I write based on what I know, which is life in Iowa and especially life in rural Iowa," Woods said. "This album is all original music in that style. It's all vocals and steel guitar, and it's based in blues and American roots music."
With song titles like "Always Tired" and "Changin' My Mind About You," Woods tries not to overthink or overanalyze his music as he writes.
"I tend to write about everyday life and about challenges that I come across," he said. "It's pretty straightforward music, kind of like my personality, and it's a lot about life in rural Iowa."
It was about 20 years ago that Woods first picked up a guitar.
"I was an athlete in college, and when I stopped doing that while I was still in college, I needed something to fill in the space," he said. "It was kind of on a whim that I picked it up, but it was always something I wanted to do, so I decided I wanted to play the guitar."
Woods has a lot of musicians he's been inspired by over the years, "and I do take a lot of pride in being part of the Iowa music community," he said. "I've gotten a lot of friendship and mentorship from a lot of people in the community."
Musician Joe Price, who is an inductee in both the Blues and the Rock and Roll halls of fame in Iowa, is a big hero for Woods.
"I've learned a lot from him, especially from a guitar playing standpoint," Woods said. "But countless people have helped me along the way."
The local music community tends to be a supportive one, he said.
"There isn't that attitude of stepping on each other to get what you want," Woods said. "There's not a bunch of backstabbing. I mean, obviously everyone wants to get noticed, but it's a very supportive atmosphere in central Iowa, and especially in Ames. It's a pretty special scene to be a part of."
Woods last two albums have been all original music.
His past releases include two solos, "If I Was a Fish" and "Sawdust and Gasoline," and two albums released with his band, Matt Woods and The Thunderbolts ("Be My Friend" and "Matt Woods and The Thunderbolts"). Those releases have received international recognition and acclaim, including positive reviews in Blues Revue and Dirty Linen, and other prominent music publications worldwide.
Both 2006′s "If I Was a Fish" and 2015′s "Sawdust and Gasoline" finished in the Top 5 of the International Blues Foundation's best self-produced album award category. "Sawdust and Gasoline" was also nominated for a Blues Blast Music Award in the category of Best Acoustic Blues Album of 2015.
Woods is also a three-time winner of the Iowa Blues Challenge and semi-finalist at the International Blues Challenge in Memphis, Tenn.
"DG's is one of my favorite places to play," Woods said. "I kind of consider it my home club."
Ames Tribune
By Ronna Lawless Staff Writer