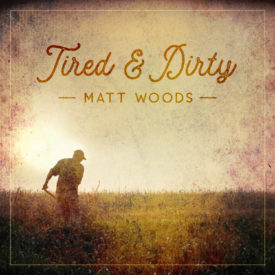 Iowan Matt Woods is a craftsman whose music takes on the diversity of traditional roots music, from the Delta to hill country to urban electric blues and even getting into Gospel, country and folk music. Woods has now released four albums (two solo) and participated in the International Blues Challenge three times. He was nominated for a Blues Blast Magazine Award for Acoustic Blues Album of the Year in 2015 for his album Sawdust and Gasoline.
Woods here has written all the songs and performs solo. He starts his album with "I'm A Bloodhound," getting a bit of a boogie going and picking out some nice stuff. He sings with authority and grit; here he tells his woman who is ripping him off that he's "Gonna track her down like a bloodhound." The threatened end result is a lot worse. "Train Goes By" is an upbeat and quick paced instrumental train song that shows off his chops and a little slide to boot.
"Always Tired" is a cool little blues with a nicely finger picked intro and then Woods wailing out the vocals. He bemoans life, trying to make some money to bring home to his woman, he aches and hurts as he works. Up next is "V8 Ford," a rollicking number about driving his old V8 Ford to his woman's house. This has a pretty pre-WWII feel to it, with Woods picking those strings with abandon. "Bootleg Me Mama" is a dirty old slow blues with a deep guitar riff to start things off. He asks his Mama to take him wherever she wants, even in the trunk of her car as long as he knows where she is.
"Now I'm Busted" is another fast paced slide guitar tune where Woods tells us how he's busted and expresses his regrets. In "I Ain't Leaving This Town" Woods picks and grinds out a nice mid tempo folky tune. "Spacement Serenade" is an acoustic guitar instrumental serenade. It's pretty and light and airy. "You Need Me" is a swinging slide tune with some slightly compressed vocals that make it sound old. The guitar picking is sweet; Woods seems comfortable and completely in his element.
Things conclude with the slide guitar folk tune that could be a cowboy song or at least a country tune. The guitar howls and sings along with Woods in a slow and deliberately paced duet. More creative lyrics here, Woods has crafted some interesting and neat songs and performs them comfortably like a good old broken in shoe on a long walk.
This is a very, very nice album of acoustic roots music. Woods in in his zone, delivering ten great new cuts that fans of acoustic music will surely love as I did. Highly recommended!