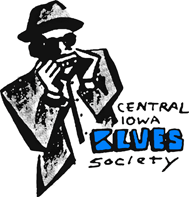 When our band, Matt Woods and the Thunderbolts, broke up a few years ago, Matt Woods could've found an agent, gotten his hair styled, and gone on the road playing blues through a Marshall amp, and he probably would've been highly successful.
But like all the best blues based musicians Iowa has produced,( Bo Ramsey, Joe and Vicki Price, Patrick Hazell and many others), he has strong convictions about how music should be approached, recorded and performed. Instead, he grew a beard, got married, bought a farm and a couple of tractors, had a beautiful son and launched a career as a solo performer.
Matt's new CD, Sawdust and Gasoline, is the continuation of his new approach, and very much follows the convictions he has always held dear. Those being, straightforward pure blues, performed honestly, without studio tricks, sophisticated in it's traditional way, and with Matt's trademark heartfelt vocal style.
The album kicks off with the sly "It Ain't Stealin'," a song sung very well, considering his tongue being planted firmly in his cheek. It is followed by the instrumental "JP'S Boogie," I assume an homage to the great Joe Price. The music to the boogie is very much in the grand tradition, but is deceptive, in that fingerpicking and negotiaiting all those changes may sound easy, but very few could play this tune with out some serious woodshedding.
The next two tunes are straight off the farm, where, as most Iowans know, Mother Nature is in charge, and, if she decides to, she will kick your ass. I like both of these songs immensely, and particularly Snow Driving, which captures the experience of a white knuckle drive into town perfectly. It's cleverly written, and both songs are quite funny.
"My Name Ringin'," features some nice dobro work, and the cadence of it, coupled with the slide, creates a fascinating combination of patterns.
This "Rock Road," takes us back again to rural Iowa, and the perspective one gets looking across the plains.
The crowning acheivement, to me, is "I'll See My Father There," which very much reflects the strong convictions I spoke of earlier. I'll let you, the listener, listen to the words and draw your own conclusions, but in my book, this song is heavy, and quite possibly Matt's best writing to date.
I have always said the blues resonates with so many people for two reasons, one is the common experiences of pain and joy, that we all have experienced, that make the lyrics so easy to relate to, and second is the elemental nature of the music, straight ahead, profound and deep, that you just can't miss, when it's played properly.
In closing, I think this CD has those traits. Having said that, if you are in the mood for some honest, original blues, I invite you to get this CD, pop open a tall, cool one, and join Matt on the backroads. It's a hell of a ride.
As published in the May 2015
Central Iowa Blues Society Blues Crier
Review by Scott Cochran