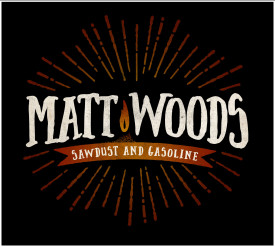 Matt Woods comes from Iowa, is a musician since 2002 regularly out and has released three albums. His first solo album comes from 2006, entitled "If I Was A Fish". But not only solo but also with band, The Thunderbolts, the musician was active.
In addition, the young musician may already have a wealth of experience in terms of blues music, but he shared the stage with such greats as Eddy Clearwater, Hubert Sumlin, James Cotton and others.
The artist's style has, despite various influences strongly oriented towards traditional roots. And thus we are equal landed in his new plate in the middle.
If I had not known before that here operates a young paleface, so I would have fallen almost the illusion, a grandson of the founding fathers of the Blues would have left its mark here.
Because this type of original Delta Blues is right from the start omnipresent, "just the man and his guitar". All songs were recorded live in the studio, in the Alexander Recording Kompany, Ames, Iowa.
Not many musicians there are today who maintain this kind of Blues, and so I am glad that this record has been released. Matt combines finger picking and slide in an impressive way, plus he sings powerfully with passion and dedication.
In addition to an instrumental number, "JP's Boogie", we experience with "I'll See My Father There" still a little trip to the Gospel. This Blues applies directly to Mark, without detours, no frills, rock-oriented with no ambitions wannabe blues guitarists, a bubbly refresh the tradition.
But can a white man ever play the blues? In addition there have been numerous discussions and views.
In some songs that sentence appears:
"The Blues Is not Nothin 'But a good man feelin' bad."
Whether there are songs of old traditional blues, whether it was Janis Joplin, or has, for example, the author Paul Oliver busy getting the gist remains the effect equal to that one to, or how it actually exactly is, the Blues, always has if one does not go well, if anything goes wrong. Who will not be affected and pure and carefree heart is who do not know any blues and could not logically him play.
Well, Matt Woods must using these statements go so really dirty, or have gone, at least give the songs submitted this plate rise to this presumption. Because what the musician expresses here is enormous emotional and influenced by what constitutes Blues for me, the payout of feelings, yes, the soul. That's something that you can feel, something that certainly does not have any music where blues draufsteht.
Muddy Waters once commented as follows on the subject: "They're playin 'the white folks' blues. I'm playing the real blues. " Buddy Guy put it diplomatically: "People ask me, '? Can a white man play the blues' Well, he got five fuckin' fingers you. That's all I got and I could see it if a black man had eight fingers and a white man had five then we'd have to advantage. But there's no advantage. It's a learning process. "
One can consider different it sure for me it is true this statement, the Albert King is said to have formulated: "If you do not dig the blues you got a hole in your soul". That means for me that Matt Woods has delivered with this drive an outstanding Blue plate and I'm glad to have a hole in the soul, because I can enjoy this music.
As translated by Google Translate.
Original version here >>
[google-translator]