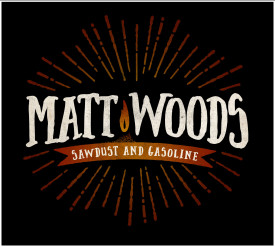 Matt Woods? Oh, yeah, there you go. In fact, that's why there are places like the Blues Corner, where every now and then you read about a new name with the world's blues scene. A Matt Woods and Croatia … they have something in common? Whatever could it be?
This year's album "Saw Dust And Gasoline" with, unfortunately, "only" eight songs certainly shows why Matt Woods distinctive quality and blues musician, who, here, catering to announce album. And where is that Croatia? Of course, who remembers what happened at the 29th International Blues Challenge in Memphis in early 2013 …?
As we know, this competition takes place in several categories, and in Memphis, performed by over 200 artists from all over the world. Of course, and then Croatia had its representatives in the category of solo / duo it was Teo Anicic from Split, in the category of bands that were Delta Blues Gang of Pula. A just and 2013. For the first time in Memphis and were 4 Town Blues Band in the junior category – youth. Pula Delta Blues Gang entered the semi-finals and repeat the good performances of Croatian musicians bues the cradle of the blues. Matt Woods is in the category of solo / duo then defended the colors of Idaho Blues Society, and in the category that year, as well as in the category of bands, was a strong competition. Little G Weevil, The Muddy Sons, Chris Yakopcic, Tim Griffin and Rick Taylor competed in the category of solo / duo, while in the category of bands worth mentioning Poppa Dawg, Mojo Theory, Selwyn Birchwood Band, Sista Jean's Blues Machine, Joel DaSilva & The Midnight Howl, Mike Milligan & The Altar Boyz, Alastair Greene Band, Laurie Morvan Band, Andrea Marr Band, The Brighter Side Band, Jason VIVONA and The Billy Bats, Port City Prophets Dave Keller, Back Pack Jones, Dicky James & The Blue Flames, Ghost Town Blues Band, Meena Cryle & The Chris Fillmore Band, Sugar Boy & The Sinners, Mark May & The Soul Satyr Horns, Blues Expressions, Dan Treanor & The Afrosippi Band, Tommy Schneller Band, The Mike Lucci Band, Interstate Buffalo JT Coldfire and The Georgia Flood. Of course, this is only a small overview of the names that are then presented his blues associations. As Matt Woods, and our artists had to face a great challenge and commitment and, of course, only now it is clear how much good there, great musicians there … and so should be respected, then our representatives and clearly congratulate them anyway as the Matt, on a clear, certain and great performance prepared and worthy presentation of the music we love so much.
A strong, fully formed and great set of guitar handwriting Matt Woods, and equally powerful vocals, which Matt so impressive ispjevava what he loves, will surely every pokonika blues at least delight. Crystal-clear and 100% formed the musical influence of the Delta blues with Matt result that he is just as good in the instrumental themes such as "It's Boogie", as well as those in his vocals even more thick that his prezenatcijsku form. Listen, for example, the title "Saw Dust And Gasoline" … The tradition comes from the expression in the "It Is not Stealin '" and "Tornadoes And Bad For Everyone". It is equally expressive in the acoustic slide expression, as well as in electricity, Matt is just not that bothered and 'shaking' his Furka, as it was him who made a 'deal' on that intersection. Again, listen to the "Snow Drivin '" – Bukka White, Big Joe Williamson and Big Bill Broonzy strongly emerge from individual pieces, such as in "My Name Ringin'," "Rock Road" …. And we come to the only blemish albums – only eight songs! I can not wait the new album with at least 12 this expression and great songs.
RECOMMENDATION:
Album "Saw Dust And Gasoline" Matt Woods is an excellent example of acoustic blues in the traditional form, which is in the final stage got very modern ring to it, no matter whatever that means! Without a lot of philosophy, Matt, his guitar and vocals leave truly striking impression, and the album very positively and strongly suggests that at the very musicians should be counted!
Yours bluesy,
Mladen Loncar – Mike
As translated by Google Translate.
Original version here >>
[google-translator]